Optical Department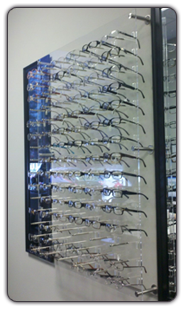 Our goal is to provide the latest technology and advanced eyewear to enhance your vision with our knowledgeable, experienced, honest, compassionate, friendly professionals. Our Optician has over fifteen years of experience dedicated solely to fitting glasses and contact lenses. We will help you determine the best lenses for your specific vision, comfort, fit, and face framing needs.
Our Optical Department maintains an inventory of styles that incorporate the latest technology in frame wear ability and durability. We have a wide variety of frames to fit any budget needs. From classic to the latest styles, we have a frame to fit your personal style. We have Altair, Bongo, Candies, Guess, Harley Davidson, Jill Stuart, Kenmark, Marchon, Silhouette, Vera Bradley, and many more brands available. We also carry contacts for those who prefer them to glasses. We have Acuvue, Ciba, and Cooper Vision products.
All of our glasses and contact lenses are made to the highest standards available.
Choosing the Right Lenses
Single Vision
This type of lens is used to correct only for distance or near vision. Single vision lenses have the same focal power throughout (top to bottom) and can be used to correct nearsightedness, farsightedness, astigmatism, or a combination of these. Most people who wear glasses before the age of 40 have single vision lenses.
Bifocal Lenses
These lenses have two parts, the upper part which is normally used for distance vision and the lower part used for near vision.
Progressive Lenses
It's a type of multifocal lens without a line that diminishes image jump and gives a better appearance. They provide a seamless progression of many lens powers for all viewing distances.
Polycarbonate (strongest and safest material available)
The polycarbonate material was developed by the aerospace industry to use in helmet visors worn by astronauts. These are lighter weight and more impact resistant that glass or plastic lenses. They include a scratch resistant coating and ultra violet light protection.
Hi Index Lenses
Additional plastic lens materials fall into this category in numbers ranging from 1.56 to 1.74 (the higher the number, the thinner the lens). This material is recommended for very high power prescriptions to minimize the thickness of the lens.
Photo-chromatic Lenses (Transitional Lenses)
These popular lenses go from virtually clear indoors to darkly tinted in the bright sunlight. The brighter the sun, the darker the lens will become. Transition lenses have 100% UV protection, and are scratch resistant. Transition lenses are also available in polycarbonate material.
Anti- Reflective Lenses
We offer premium coatings to reduce glare and reflections that cause eye fatigue. They are also scratch resistant. These coatings actually sharpen your vision, increasing the visual acuity. They are essential for those who do a lot of driving or computer work. What's more, since the lenses appear to be almost invisible, people see your eyes, not your lenses.
Polarized Sun Lenses
These are the best lenses under the sun. Polarized lenses reduce glare and are excellent for driving and water sports. They protect 100% from UV rays.
Is more than one pair really necessary?
It is recommended to have a second pair of glasses to be used in the event the regular pair is broken and is being repaired.
Caring for Your Glasses
Glasses should always be taken off with both hands to stop them bending out of shape.
Don't put glasses face down onto any surface as this may scratch the lenses.
Always keep glasses in their case when not wearing them.
Clean glasses daily for clearer vision.
Use a microfiber cloth when cleaning glasses to better prevent any scratches from occurring.